School Presentation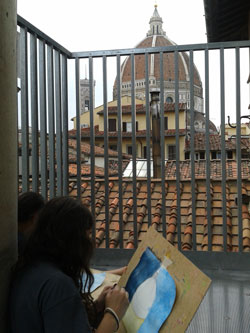 The Scuola Italiana di Belle Arti in Florence is a new reality in the teaching of art and Italian culture.
It is located in the most central Via Guicciardini, between Ponte Vecchio and Palazzo Pitti, in the beating heart of the city. Even though centrally located, the classrooms are quiet and well illuminated, two essential elements to work peacefully on our activities.
Our courses (individual lessons or small classes) will be held by professional artists. Students will be carefully followed by our highly qualified teachers in order to build strong relationships of trust and harmony, in a cozy and relaxing environment ensuring that the learning process develops in a pleasant way.
S.I.B.A offers art and Italian culture courses to those aiming to approach or deepen their knowledge of different artistic mediums such as drawing, paintin and sculpture, thanks to our specific workshops.
The school offers enrollment all year long. Our programs are tailored to those people looking to understand our culture from the inside by discovering our language and our cuisine while having the opportunity to go for art walks and daily trips in lovely places where all these elements will be experienced at once.
Courses are structured to satisfy different levels so that every student will find the most appropriate answer to his learning demands and learning path.
The school also offers support in the preparation of a portfolio for those students who are willing to apply for the Fine Arts Academy. At the end of the program, the school will issue a certificate of attendance for the courses completed.
When enrolling, a membership card is provided. This is renewable annually, and costs 35 euros.
Classrooms
Click on an image to zoom in.