Francesca Faggi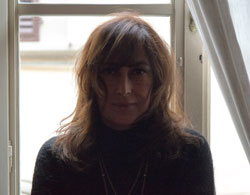 Francesca Faggi was born in Milan and now lives and works in Florence.
After earning her diploma at the Istituto Statale d'Arte of Florence, Francesca worked as textile designer for more than 10 years, where she remained for more than ten years. In 1997, she graduated with honors at the Accademia Statale di Belle Arti in Firenze, and after starting restoring and reproducing.
She had numerous awards and personal exhibitions in several Italian cities: in Florence at the Hotel Park palace and the Caffe' Petrarca; but also in: Marina di Pietrasanta (Lucca) at Villa la Versiliana; Rome at the Teatro Eliseo; Lignano Sabbiadoro (Udine) at the Sala d'Arsena; Udine at the Galleria La Loggia; Abano Terme at Sala Kursaal; Lucca at Sala dell'Angelo; Certaldo (Florence) at Palazzo Strozzi-Ridolfi; Sirmione (Brescia) at Galleria Dante Alighieri and so on.
Her list of clients include Decoration Walk's, a chain of stores present throughout the United States devoted to luxury interior decoration, as well as private clientele from all over the world: Florida, Minnesota, N.Y.C, Australia, England, Spain, etc...
In Italy her artworks are in demand by private collectors from all over Italy-Europe as well as public collections, such as the Chiavenna Landi church (in PC) for which she made a reproduction of the great fresco by Ghirlandaio which represents the nativity. This work, together with a smaller one, has been published in the book "Chiavenna Landi – La Parrocchia e gli Agostiniani".
Beside her work as an artist, she also teaches drawing and painting, in private lessons as well as in different art schools in Florence.