Drawing course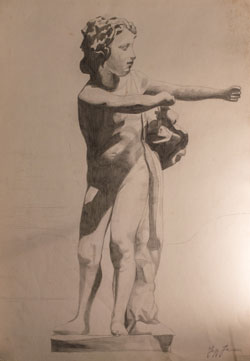 Our courses are aimed at people of all ages with any level of knowledge and skills in the field of drawing and painting.

You can sign up during the year depending on personal needs. The courses are individual, held in small groups of max 4/5 people.

The lessons are conducted in English and Italian.

We prepare a program based on the capabilities of each student targeted to acquire elements and which the students desires.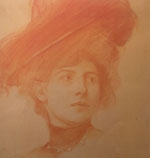 In this regard we ask to view the work already completed, these will be very useful to establish immediately his/her level and understand what are his/her shortcomings.
For those who are self-taught or have never taken a course in drawing or painting, we always recommend starting with the basics, that is, how to set the subject in the space available to us, this being paper or canvas, through the study of perspective.

From simple line drawing we proceed to the study of chiaroscuro taking advantage of Charles Bargue method, studying Roman greek art models, learning to give three-dimensionality and plasticity to the drawing.
The techniques taught in the course will include the use of graphite, charcoal and pastel.
Classes are held both in the studio and outdoors, in public gardens of special interest and other typical places of the city, in order to enable you to work on different nature subjects.
The school will issue a certificate of attendance at the end of the courses.
Hours of courses: 10.00 A.M. - 1.00 P.M. / 2.30 P.M. - 5.30 P.M.
Students who are not present in the courses for personal reasons and without prior notice will receive no refund for the amount paid for the course.
Our prices for individual drawing and painting courses:
| DURATION | HOURS N. | RATES |
| --- | --- | --- |
| 1 week | 15h | € 225,00 |
| 2 weeks | 30h | € 420,00 |
| 1 month | 60h | € 780,00 |
| 2 months | 120h | € 1.440,00 |
| 3 months | 180h | € 2.070,00 |
| 6 months | 360h | € 3.780,00 |
| 9 months | 540 ore | € 5.400,00 |
| 1 week intensive | 30h | € 420,00 |
| 2 weeks intensive | 60h | € 780,00 |