Onedayout Tours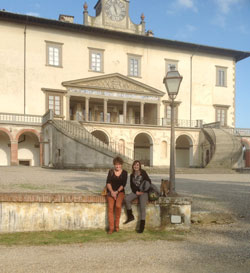 The Scuola Italiana di Belle Arti organizes visits to some of the most beautiful and well known ancient Villas (Medicean and other) in the surroundings of Florence. "One-day-out Tours" will let us get to know and appreciate unusual places, steeped in art and history: our authentic cultural heritage often unknown to most tourists. We will have the opportunity to visit these monuments and draw "en-plein-air" in their wonderful and quiet parks.
The villas we will visit were designed by famous architects, for example Bernardo Buontalenti, and decorated with frescoes by artists such as Andrea del Sarto, Tribolo, Passignano and so on. These villas were once inhabited by Italian nobility and by historical families such as the Medici.
Parks surrounding these buildings are outdoor masterpieces, real examples of the internationally known Italian-style gardens, enriched with beautiful statues, grottoes, fountains and lovely scenarios.
On these day trips, we will have a light lunch at local taverns or wine tasting shops.
Tour A: Medicean Villa in Poggio a Caiano
Tour B: Villa Caruso in Lastra a Signa
Tour C: Villa Demidoff in Pratolino
Tour D: Villa La Petraia in Castello
Tour timetable: departure at 10.30 am and return at 4.30 pm.
Tour cost: 90 euros – please note that this does not include meal expenses and ticket entrance (when required)
Materials needed:
an A/3 or A/4 format drawing pad, drawing pencils (HB, 2B, 4B), eraser, pencil sharpener, charcoal, sanguine, pastels, watercolors (your choice).
We also suggest you bring a folding stool, a hat and comfortable clothes.
If you need any other kind of information, please feel free to contact the school.